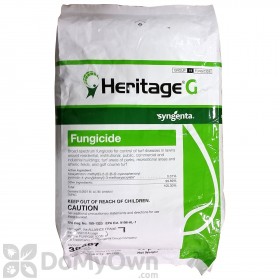 $86.50
Buy Now
David from Franklinville, Nj writes,
06/20/2017:
If Heritage G Fungicide is applied to heavily, will it harm the grass?
Answer:
It is important to apply the correct amount of Heritage G Fungicide for your treatment to avoid any injury. Please refer to the product label for complete mixing and application instructions.
Answer last updated on: 06/21/2017
Was this answer helpful to you? Yes No