Home » Animal Control » Animal Excluders » Tomahawk One Way Excluder Rear Door for Squirrels/Rats - Model E50D » All Reviews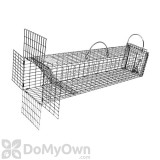 $59.90
Free Shipping!
---
Displaying 1 to 2 (of 2 reviews)
4 of 4 people found this review helpful:

Did the trick!
By James on 01/23/2012
Verified Purchase

We had squirrel problems and the regular traps in the attic only caught 1. We had cameras and the remaining squirrels would jump on top of the cage till the door closed and not even try to go inside. I think they were mocking me... We attached an HVAC floor adapter to the hole in the eave they were using and that funneled them into the one way trap. I had one the next morning and another the morning after that. A total of 4 squirrels caught and we have had no problems since.

1 of 1 people found this review helpful:

Modify the excluder
By Jim on 08/10/2012
Verified Purchase

I think it would be better if the release door could be opened remotely. It is located on the second story of my house and I would rather not go there on a ladder and deal with a wild creature. I think their should be a way to open the back door by pulling a string from the ground even if as a customer I provided the string and you modified the door so I could open it by pulling on the string on the string from the ground. Get those little gray cell going and figure it out. ps your software does not have a send button and continues to want me to rate my own review. Fix it.
Displaying
1
to
2
(of
2
reviews)