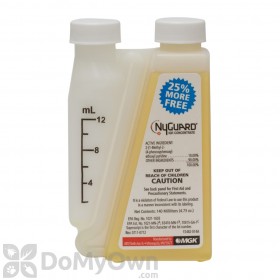 $51.20
Buy Now
Michael from Jacksonville Arkansas writes,
10/30/2014:
What is the shelf life if opened, but still in its original container?
Also I see it says it will last up to seven months indoors but how long will it last outside in direct sunlight and rain. I currently do not have a problem I will use it as a preventative with talstar. I was thinking 12ml per gallon ever three months. Thank you.
Answer:
Nyguard IGR has a 3-5 year shelf life as long as it is stored at room temperatures. Nyguard IGR only needs to be applied once every 5 months outdoors. It has the longest residual outdoors to sunlight and rain over all other IGR's which only hold up about 14 days.
Answer last updated on: 10/30/2014
2 of 2 people found this answer helpful. Was it helpful to you? Yes No