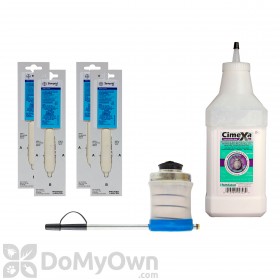 $40.98
Buy Now
Carole from Ossining, Ny writes,
05/27/2015:
Is there a long lasting spray to keep stink bugs and centipedes away?
The stink bugs find a way in every so often, but the building I live in has centipedes and I would like to spray my front door and terrace door to keep these bugs away.
Answer:
We would recommend using our Stink Bug Control Kit. It has all the items needed to keep stink bugs away, as well as various other pests, including centipedes. The Temprid SC will be mixed with a gallon of water and sprayed around the baseboards, cracks and crevices indoors. Outdoors, the product will be sprayed around the perimeter of your home, including windows, doors, etc. where the pests can get inside. Temprid SC will last about 90 days indoors and about 30 days outdoors.The Cimexa Dust will be used inside the wall voids inside of the light plate switches and electrical outlets. This can last up to 10 years in the wall voids.
Answer last updated on: 05/28/2015
Was this answer helpful to you? Yes No