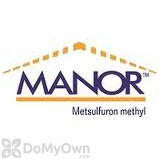 $0.00
Buy Now
Jr from Leakesville,ms writes,
08/01/2014:
Can manor be used on centipede grass?
Answer:
Yes, Manor Herbicide is labeled to be used on centipede grass. However, we no longer carry this product. The replacement for the product is AmTide MSM 60 DF Herbicide. They both have the same active ingredient. Apply 0.25 to 0.5 oz. of this product per acre for weed control. Some chlorosis or stunting of the turfgrass may occur following the application. Please let us know if you have any additional questions.

Answer last updated on: 08/01/2014
Was this answer helpful to you? Yes No