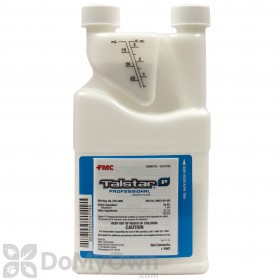 $27.50
Buy Now
Todd writes,
10/05/2011:
Can I pour Talstar around a tree to try and poison the pests within?
I have seen signs of the emerald ash borer on our property. Now I also am seeing signs of the asian longhorn beetle in our maple and pine trees. If I pour this around the tree and the tree drinks it up will it then kill these pests as they eat the wood from the inside? I have never seen these bugs on the outside of the tree but the signs of the asian longhorn beetle are hard to miss.
Answer:
Talstar P will not work as a systemic insecticide and will not eliminate insects inside the tree. You will need to purchase a product that contains imidacloprid such as Merit 75 WSP, Adonis 75 WSP, Adonis 2F, Dominion 2L, Criterion 75 WSP and Fertilome Tree and Shrub Systemic. Each of these products will work systemically to help treat for Emerald Ash Borers and Asian Long Horned Beetles but the application and usage rate will vary so you should read the product label of the product you are considering and make sure you are comfortable with the application before purchasing. Systemic products can take several weeks to translocate through a plant. Trees that have not been infested with these beetles can be protected with topical bark sprays like the Talstar P. We recommend you contact your local cooperative extension office and speak to the master gardener or entomologist on staff to find out when the best time to apply a systemic and/or a bark spray would be as this varies from region to region. Heavily infested trees may need to be taken down and chipped or burned to help save the neighboring trees.
Answer last updated on: 10/05/2011
3 of 3 people found this answer helpful. Was it helpful to you? Yes No