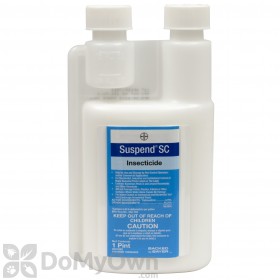 On Sale!
$33.50
Buy Now
Jeri writes,
07/03/2011:
Can Suspend SC be used on furniture where people, dogs, & children sit and/or lay?
I have 4 dogs living inside my home & a 2 yr old grandchild who is here frequently. My daughter brought a puppy in who gave my dogs mange. I read online that your product is good to spray on my couches, chairs, etc. & let dry. Is it safe for my pets & grandchild to do so?
Answer:
Suspend SC is not labeled for any type of mange mites and may not give you with the results you are looking for, nor is is labeled for use on furniture where people would sit. In fact, for the few mites Suspend SC is labeled for the product label makes a point to tell you that it is for suppression only. In almost all mange infestations, you should treat the infected animal with products given to you by your veterinarian. All of the animals bedding should be washed with Borax (read the product label and be sure it is labeled for use on laundry) and dried or discarded all together to avoid re-infestation. If the animal has been sleeping or resting on your couch or other furniture, you should thoroughly vacuum and perhaps even steam clean the furniture. Some people find relief by using diatomaceous earth under and around furniture, under furniture cushions and in the tucks, seams, folds, cracks and crevices of the furniture.
Answer last updated on: 07/03/2011
1 of 2 people found this answer helpful. Was it helpful to you? Yes No