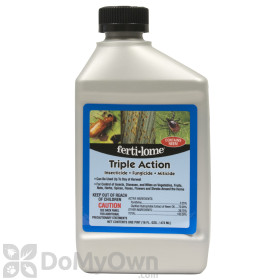 $25.08
Buy Now
Ron from Charlotte, Nc writes,
05/17/2015:
Can Triple Action be used on leyland cypress trees? And is there really any plant it cannot be used on?
Answer:
Fertilome Triple Action with 70% Neem Oil can be used on just about any plant. However, if you do have a senstive plant, usch as ornamental olive trees or red maples, it is recommended to test a small area first to ensure there is not a negative reaction to the product.

Answer last updated on: 05/18/2015
4 of 4 people found this answer helpful. Was it helpful to you? Yes No