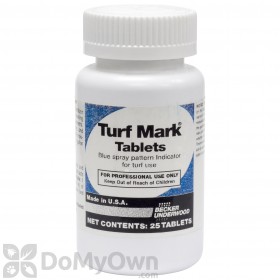 $22.53
Buy Now
Miya from Phoenix, Az writes,
03/07/2013:
Can Turf Mark Blue be used w/ sedgehammer to mark where applied?
and....how long will the color stay?
Answer:
You can use the Turfmark Blue tablets with Sedghammer. Color mark lasts 1-2 days and breaks down in sunlight and moisture on foliage. Rate: 1 tablet per 1-2 gallon (3.8-7.6 ltr) of spray solution.
Answer last updated on: 03/07/2013
2 of 2 people found this answer helpful. Was it helpful to you? Yes No