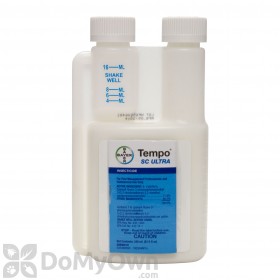 $43.67
Buy Now
Mike writes,
03/26/2011:
Can I use Tempo SC Ultra in a hose end sprayer for Chiggers?
What is the mix ratio for Tempo SC Ultra for use in a hose end sprayer? Is this a good insecticide for Chiggers?
Answer:
You should apply Tempo SC Ultra at a rate of 8 ml of Tempo per 1000 square feet. The amount of water depends on how much you need to apply the 8 ml over the area of 1000s square feet. It can be mixed with a few gallons of water, or 10 gallons of water, just as long as the 8 ml is applied over the 1000 square feet.
Answer last updated on: 03/26/2011
2 of 6 people found this answer helpful. Was it helpful to you? Yes No