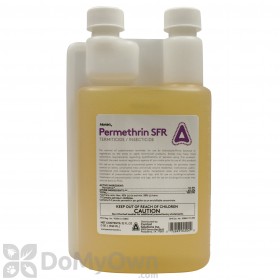 $25.46
Buy Now
Felix from Macon, Ga writes,
02/22/2015:
Can you spray Permethrin SFR directly on you and how to mix to treat your yard and dogs?
Answer:
Permethrin SFR
cannot be used on humans in any way but the
product label
does give instructions for using on dogs as a flea and tick dip. Please refer to the product label for complete instructions.
For Lawns: Mix 0.4 - 0.8 fl oz of Permethrin in 4 to 25 gallons of water per 1000 sqft, use the higher rate for faster knockdown and increased residual control. Dense or excessive (greater than 3 inches) lawn height and arid conditions may require higher volume application rates. Repeat application if necessary.

According to the Permethrin SFR product label you will mix ¼ fl. oz. of concentrate to 1 pt. water and use 1-2 fl. oz. of dilution to spray on each animal. Spot treat back, face, legs tail and ears. If you would like to "dip" the dogs you will use ¼ fl. oz. to 1¼ gallons water and thoroughly wet the dog to the skin with sponge or rag. Let drip dry.
Answer last updated on: 02/23/2015
3 of 5 people found this answer helpful. Was it helpful to you? Yes No