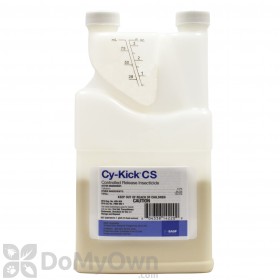 $39.98
Buy Now
Jon from Ringling,ok writes,
09/15/2014:
Cy-Kick-CS
I have found Cy Kick to kill most everything I wanted but I have never tried it on Fire Ants. Is it a good product for that? If not,what should I order?
Answer:
Cy Kick CS is labeled for fire ants however Extinguish Fire Ant Bait is our most popular ant bait. Applied as a broadcast application use 1.5-2 lbs. per acre and for ndividual mounds treatment, use 2-5 tablespoons. Keep in mind, Ants must be foraging for this to work. You should not apply this product in the late fall or winter of ants are not foraging...it will not work! Also, bait must remain dry. Do not apply if it is going to rain within 8 hours.
Answer last updated on: 09/15/2014
0 of 1 people found this answer helpful. Was it helpful to you? Yes No