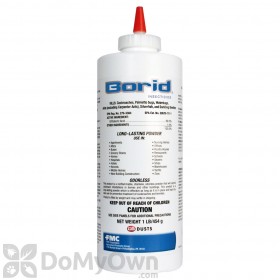 $19.95
Buy Now
Thomas writes,
03/25/2011:
Does boric acid dust kill carpet beetles?
I am looking for an organic/natural product to kill carpet beetles. does boric acid work? thanks.
Answer:
Borid Boric Acid Dust is not labeled for treatment of carpet beetles. However, we do sell an all natural dust called EcoPCO D-X Dust which is labeled for carpet beetles and is made from plant extracts.
Answer last updated on: 03/25/2011
2 of 8 people found this answer helpful. Was it helpful to you? Yes No