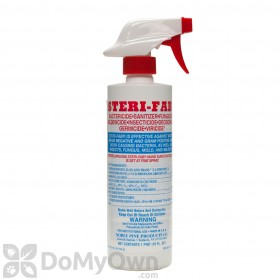 $14.55
Buy Now
Shirley from Jackson, Ms writes,
09/03/2016:
Does Sterifab kill carpet beetles?
Answer:
While Steri-Fab Insecticide is not labeled for carpet beetles, it is alcohol based and could kill any sprayed directly, but we would not recommend it for them.  For indoor carpet beetle control you may want to consider a product such as Nyguard Plus. This product contains an insecticide to kill the roaming adults and an insect growth regulator to stop the harder to kill immature beetles from reaching a reproductive state which in turn will break the cycle of infestation. As an added bonus this product also contains a deodorizer for carpet applications.  It is also best to find and eliminate the source of the infestation to get complete control.  We have a great guide here that might help.
Answer last updated on: 09/05/2016
3 of 3 people found this answer helpful. Was it helpful to you? Yes No