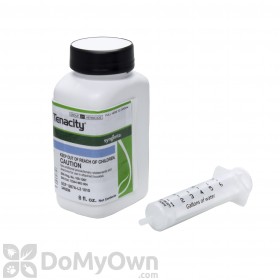 $63.50
Buy Now
Steve from Allison Park Pa writes,
06/14/2015:
Does Tenacity Herbicide need to be watered in after applying?
Answer:
After treating with
Tenacity
, you want the product to have at least 6 hours of dry time before any rain or irrigation occurs. You do not want/need to water after a post emergent application. We recommend using the spot treatment rate of Tenacity in the dense areas so as to not cause damage to your lawn. Tenacity is known due to its power to even with an accurate application to sometimes temporarily whiten the turf surrounding the weed areas. The color will normally return within 3-4 weeks so to minimize the chance of turf discoloration you will want to use the lower dose at first and be cautious to not overlap or too heavily apply the product. Please let us kow if you have any other questions.
Answer last updated on: 06/14/2015
27 of 34 people found this answer helpful. Was it helpful to you? Yes No