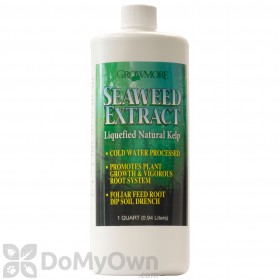 $17.74
Buy Now
Cheryl from Junction City writes,
03/19/2015:
Does this product contain cancer causing ingredients?
I just purchased this product because I have used a liquid seaweed product before and it worked fantastic but I couldn't find my usual product and decided to use yours. but after I bought it the warning said "This product contains chemicals known to the State of Calif to cause cancer, etc....But on your website it says there are no cancer causing ingredients. Before I put this on my garden I would like to know which is correct. Before I read the warnings I had already added this to my flowers and shrubs, so I am a little concerned about using this. Please let me know.
Answer:
According to the label precautions, Growmore Seaweed Extract does contain chemicals known to the State of California to cause cancer and birth defects or other reproductive harm. If you have any specific questions about the product, we would recommend speaking directly to the manufactuer. Their phone number is (310) 515-1700.
Answer last updated on: 03/20/2015
2 of 2 people found this answer helpful. Was it helpful to you? Yes No