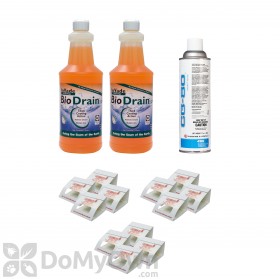 $67.00
Buy Now
Joe from Westerville. Oh 43081 writes,
11/28/2012:
Drain flies disappeared
I bought a "kit" about 3 weeks ago. Once it arrived, i didnt open it because the flies have not shown up for about the same 3 weeks. Are they gone or should i still do the treatment? Also it's been cold lately in OH, would that effect their activity?
Answer:
It is possible that the drain they were breeding in cleared of the organic matter the needed to survive. Only time will tell if they are gone for good. If the drain/pipe hasn't been cleaned in a long time it is still worth your while to go ahead and clean the drain with the drain gel to avoid this problem in the future.
Answer last updated on: 11/28/2012
3 of 4 people found this answer helpful. Was it helpful to you? Yes No