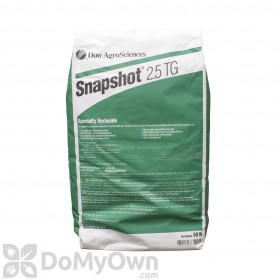 $120.27
Buy Now
Blair from Marshall, Michigan writes,
03/11/2015:
I have acres of wild flowers for wedding garden. How will Snapshot affect it?
Also, live in SW lower Michigan can I use it now , does frost have to be gone completely or is partially OK?
Answer:
Snapshot is labeled to be used on landscape ornamentals so it is possible that it may affect wild flowers that are growing in the area. We would recommend using Snapshot when the frost is gone.
Answer last updated on: 03/13/2015
0 of 1 people found this answer helpful. Was it helpful to you? Yes No