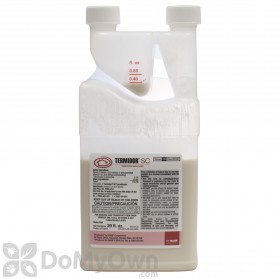 $69.00
Buy Now
Pat from St. Petersburg, Fla writes,
10/29/2014:
I have an upstairs garage apartment. One of the walls has dirt, other walls have cement.
The cement butts right up to the walls of the garage. What would be he best way to treat dry and sub. termites.
Answer:
We would recommend doing a perimeter treatment around the structure if it is possible. You will dig a 6 by 6 inch trench around the garage. You will use 4 gallons of Termidor SC per 10 lineal feet. For drywood termites, you will need to treat the exact area where they are. You would need to drill holes into the structure where they were found and inject it into the wood directly. Also, if you know where the actual termites are, Termidor SC is only limited to the area where the active infestation is.
Answer last updated on: 10/29/2014
1 of 1 people found this answer helpful. Was it helpful to you? Yes No