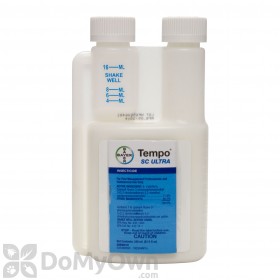 $43.67
Buy Now
Marques from Cadott, Wi writes,
08/21/2014:
i have just purchased a 900ml bottle and plan on spraying multiple house for Asian beetles i have a100 gallon...
Answer:
Tempo SC Ultra is labeled for a few differnt types of Beetles, however Asian Beetles is not the label. We recommend using Onslaught Fastcap or Bifen IT outdoors to kill Asian beetles,using either product at a mixing rate of 1oz per gallon water. Treating outdoor areas is very time consuming and getting the appropriate coverage over the area can be a real challenge. But it's the only way to stop the invasion. Spraying indoors without spraying outdoors is virtually useless. Any measure for control to treat Asian Lady Beetles assumes that all holes and entry points OUTSIDE of the structure have been sealed first. When treating the inside and outside perimeter of the home, focus on the entry points to the home (windows, doord, eaves, attic vents, foundation cracks). Please let us know if you have any further questions.
Answer last updated on: 08/21/2014
Was this answer helpful to you? Yes No