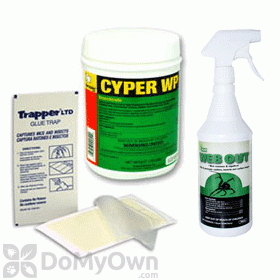 $54.95
Buy Now
Sal from Tx writes,
03/30/2013:
How can I clean and prevent spider sacks and webs on my patio ceiling?
I spend the whole day today cleaning the ceiling of patio and bacon from spider sacks and webs, and in a week time it'll all come back. PRessure water doesn't work, I have to use floor wiper and sometime rub it several times before the sack is off. I'm tired of this and need to find a better way to clean and and prevent it. My pest control company did nothing and said there is nothing that can be done!!!
Answer:
Web Out prevents spider webs on any surface that may support spider web development. It can be applied to metal, wood, painted surfaces, brick, stucco, fiberglass, concrete, paneling and other surfaces. Product is ready to use, not a concentrate. Web Out lasts up to 120 days on indoor surfaces and up to 30-90 days on outdoor surfaces (depending on environmental conditions). We recommend that you use our Spider Control kit which comes with Webout, Cyper WP (an insecticide) and glueboards. By using the Cyper WP that comes in the spider control kit you will not only be killing the spiders but also the insects that they prey on which will stop new spiders from wanting to move in. The glueboards can be used to monitor the spiders in enclosed areas.

Answer last updated on: 03/30/2013
6 of 6 people found this answer helpful. Was it helpful to you? Yes No