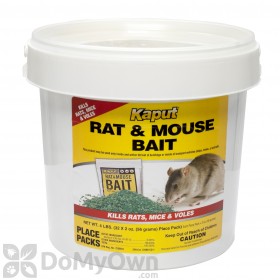 $40.13
Buy Now
Jacob from Stockton, Ca writes,
06/11/2015:
How far out from a building can I place a rodent bait if the label dose not specify?
I am talking abut Kaput rat and mouse bait 32 packs. The COVERAGE AREA you have listed on your website is 50 ft. However I am wondering if this might be changed to 100 since many other product labels have changed from 50 to 100. I have been searching for the law that relates to this which use to be posted just about everywhere but now I can hardly find a article about it.
Answer:
The Kaput Rat and Mouse Bait packs should be placed within 50 feet of a building to control the mice, rats or voles in the area. They do not generally travel more than 50 feet outside of the building so that is why they advise that you use them within 50 feet of the building. If you have any additional questions, please contact the manufacturer directly at 866-442-3467.
Answer last updated on: 06/12/2015
1 of 2 people found this answer helpful. Was it helpful to you? Yes No