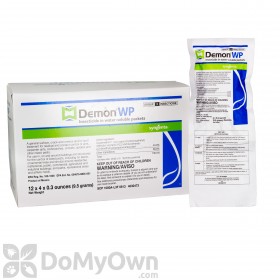 $8.99
Buy Now
Joe from Puckett Mississippi writes,
05/13/2015:
How long does it take for Demon WP to kill fleas after treatment?
Answer:
Demon WP is not labeled for indoor flea treatments and could cause your lawn to turn white (powdery look). Please let us know if you have already treated with the product or if you were considering this to be a treatment option. The kill time for fleas can vary depending on the life cycle stage. Also, this kill time can vary depending on if and when they came into contact with the product. We will be able to offer advice on application and product suggestions that best fit your needs. It is important to perform a flea treatment indoors and outdoors once every two weeks with a minimum of two applications. Indoor vacuuming will be done daily. Please find our treatment article below that includes helpful videos for flea eradication.
Answer last updated on: 05/14/2015
4 of 7 people found this answer helpful. Was it helpful to you? Yes No