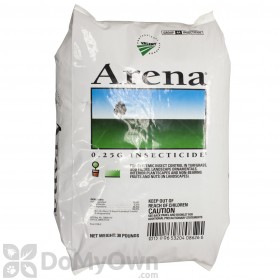 $104.54
Buy Now
Kim from Fogelsville, Pa writes,
09/10/2011:
How much does one 30lb bag cover?
I have approx. 30,000 sq.ft. of lawn and a MAJOR chinch bug problem. Can I use a Scott's Edge Guard Deluxe Broadcast Spreader? If yes, what setting (2-15)? How many 30 lb. bags do I need for the first round, and how many bags will I need for the second round 30 days later? Also, when is the best time of year to do these applications?
Answer:
You will need roughly 60-80 lbs of Arena .25 Granules per year for your property. You can apply half now and the other half later. You can use whatever spreader you choose and you will need to check with the manufacturer to understand how to calibrate the spreader as every model is different. You should start applying Arena .25 Granules just before the chinch bugs become active in your region. Most people are able to recall what month they have noticed damage in the past and they start making application a couple of weeks before that. For more specific timing you should call your local cooperative extension office as they will be able to narrow down the timing in your area.
Answer last updated on: 09/10/2011
2 of 9 people found this answer helpful. Was it helpful to you? Yes No