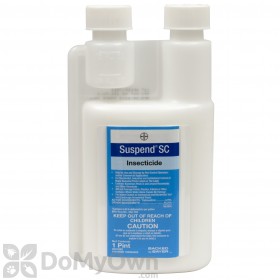 $42.64
Buy Now
Robin from Newport News, Va writes,
06/14/2017:
How much Suspend SC to use in 2 gallon sprayer for residential bedbugs?
Answer:
Suspend SC will kill most strains of bed bugs. However, we do not recommend Suspend any longer. There are resistant strains of bed bugs Suspend will not kill. We recommend using Temprid SC, because it will treat pyrethroid resistantbed bugs and using double killing power of two different active ingredients. Temprid SC also has a very broad application label. Please take a moment to look at our  bed bug kits which have many products that are considered the top bed bug control products. Our kits also come with full instructions.  They have a very high success rate with our customers and your best chance of eliminating a bed bug infestation.
Answer last updated on: 06/14/2017
Was this answer helpful to you? Yes No