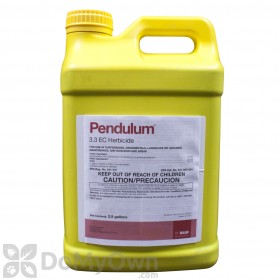 $109.99
Buy Now
Mike from Madison, Al writes,
09/28/2014:
How often can/should pendulum be applied for year round weed control in my yard?
Answer:
According to the Pendulm 3.3 EC - 2.5 Gallon label, it states DO NOT exceed a maximum of 4.8 pts/acre per application on residential turfgrass. It doesnt have a max per year limit so as long as no more than that amount is being put down at a time, and reapplication intervals are kept accurate (6-8 weeks between treatments). Pre-emergents are unique since they only prevent weeds from germinating unlike post-emergents which kill the actively growing weeds which is why the primarily have a maximum per year rates.

Answer last updated on: 09/28/2014
4 of 5 people found this answer helpful. Was it helpful to you? Yes No