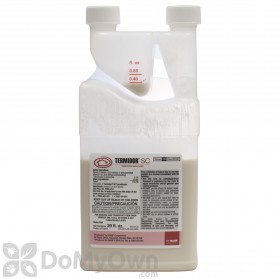 $69.00
Buy Now
Scott writes,
09/16/2014:
How would you use this product for a yellow jacket nest or a nest in wall or attic void?
Answer:
When using Termidor SC to treat yellow jackets, mix .8fl oz of Termidor SC per gallon of water and treat ONLY the exterior points of the home where you have located the yellow jacket nest. Treat using a low-pressure coarse banded surface spray up to 18 inches in
width around doors, windows, vents, pipes or any other exterior openings and/or with a crack and crevice injection tip into foundation cracks or drilled holes where listed pests could enter the structure. Inside the home, we recommend using an insecticide dust such as
Tempo 1%
. You will want to drill holes into walls to access nest and apply dust with a bellow duster such as the
B&G Bulb Duster
.
Termidor SC
is a non repellent and will transfer through the colony very effectively.
Answer last updated on: 09/16/2014
2 of 2 people found this answer helpful. Was it helpful to you? Yes No