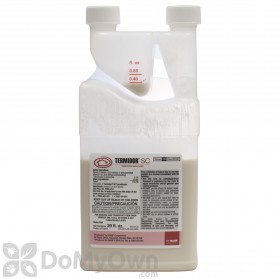 $69.00
Buy Now
Greg from United States writes,
08/10/2014:
If I have borax powder around the foundation, can I still spray over the top of it with Termidor?
Also, at what point do I stop baiting inside if I am not seeing anymore carpenter ants? I feel like if they are gone maybe focus on on outside to keep them from coming in. Also, should I keep baiting outside with Kit #1 vs a kill and repel approach? I don't want to bait inside if it will draw more in than out or what do suggest now for prevention again since I am not seeing anymore carpenter ants inside the house for more than a week now. Can I be confident that they are gone or just regrouping?
Answer:
No, Termidor SC cannot be sprayed on top of any type of powder/dust. If you are no longer seeing activity inside, there is no need to continue baiting. More than likely, they have taken the bait to the colony and eliminated it. You can spray Termidor SC around the perimeter of your home outdoors only. This should only be sprayed twice a year. It is likely that they have been eliminated from your lawn/home if you are no longer seeing them.
Answer last updated on: 08/10/2014
1 of 1 people found this answer helpful. Was it helpful to you? Yes No