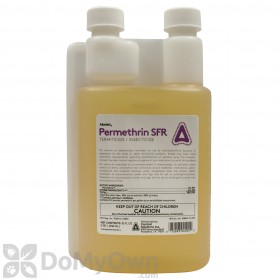 $25.46
Buy Now
Ryan from Loxley, Alabama writes,
06/16/2017:
In outdoor applications, how resistant is Permethrin SFR 36.8% to rain?
I am treating a dog flea infestation both inside and outside my home, but I live in one of the rainiest regions in America; it's currently rainy season and we sometimes get rain five days a week. Is there any special application procedure I should follow (I.E. - only apply if it's not going to rain for a certain number of days after treatment, different concentration, etc)? I am treating roughly 4,000 square/feet of grassy yard. Can I use a garden hose sprayer, or do I have to use a hand pump? Is there an ideal concentration? And what sort of protection length should I expect?
Answer:
Permethrin SFR 36.8% can be used inside and outside for flea control. If treating outside, you will want to apply on a  dry day and have 24 hours prior to a rainfall. We suggest treating with an insect growth regulator (IGR).  Treatments should be performed once every two weeks. Please take a few moments to review our treatment article on How to Get Rid of Fleas for a successful eradication program. 
Answer last updated on: 06/17/2017
Was this answer helpful to you? Yes No