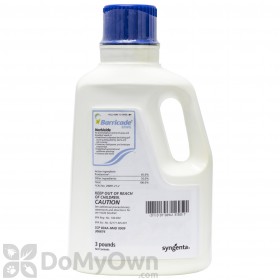 $169.00
Buy Now
Ben from Tucson, Az writes,
10/21/2014:
Is Barricade chemically compatible with glyphosate sodium and diquat-dibromide?
I wish to mix barricade, glyphosate and diquat-dibromide for long-term vegetation kill/control (I want bareground sparing the trees). I am aware that the recommendation is to alternate treatments, however, I've been unable to find compatibility information in neither the label nor MSDS. The label essentially says "try it and if it separates, it's incompatible" is there anything more specific, like a chemical compatibility guide? Thank you in advance.
Answer:
Before mixing Barricade 4FL with other pesticides in the spray tank, test for compatibility by mixing all components (carrier and pesticide products) in an appropriate container in proportionate quantities. For example, 1 qt. would be 1/100 the volume of a 25 gals./A spray rate. At 1.0 lb./A, the Barricade 4FL rate would be proportional to 6 ml. per quart. Add approximately 1 teaspoon to a quart of water.
If components do not ball-up or form flakes, sludge, gels, oily films, or layers, then the mixture is compatible. Let the mixture stand for 15 minutes. Incompatibility will usually occur within 5 minutes after mixing. If components are not compatible, use a compatibility
agent and rerun the test to determine if the mixture is suitable. If the components are still not compatible, do not tank mix.
Answer last updated on: 10/21/2014
Was this answer helpful to you? Yes No