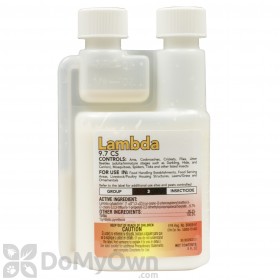 $30.85
Buy Now
Jlr writes,
12/15/2010:
Is Equil Lambda the same product as the Cyonara? I purchased this in a kit just a few weeks ago.
I thought that when Cyonara was replaced by another product in the kit, it would be with Phantom and not a similar product.
Answer:
Equil Lambda is a better product than Cyonara. Equil Lambda CS is micro-encapsulated which means it stays stronger and more effective longer. The Cyonara product is not micro-encapsulated. Phantom is a very good product, one of the best. However, the one bottle of Phantom does not make that many finished gallons because it requires 3 oz. per gallon of water, and it is very expensive. While it is an excellent product for bed bug treatment, we still have to walk a fine line of affordable, yet effective bed bug treatments. We do allow our customers to substitute products, so if you wanted to use Phantom instead then you can still get the kit and just pay the difference between the Equil Lambda CS and the Phantom.
Answer last updated on: 12/15/2010
3 of 3 people found this answer helpful. Was it helpful to you? Yes No