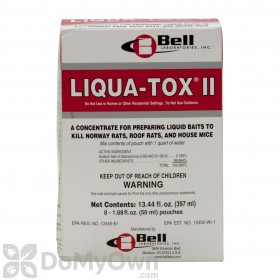 $64.03
Buy Now
Lani from Sonora, Ca writes,
07/04/2014:
Is Liqua-Tox II a good poison to eliminate rats & mice quickly?
They are eating our newly renovated house. We are worried about electrical, HVAC & plumbing that is all new. We can hear rodents gnawing on everything at night. We are in a drought right now, and we are currently using a non-secondary poison but this does not seem to slow them down.
Answer:
Yes, Liqua-Tox II is a wonderful product that is labeled for both mice and rats. One place packet is mixed with 1 qt. of water. The liquid is placed into dispenser and will hold 8 oz. of the liquid poison.

We also have a product like Final Blox, which is a single feed kill. This is an actual bait and is not mixed with water. You can place these in bait stations.

If you have any addtional questions, please do not hesitate to ask.
Answer last updated on: 07/04/2014
2 of 3 people found this answer helpful. Was it helpful to you? Yes No