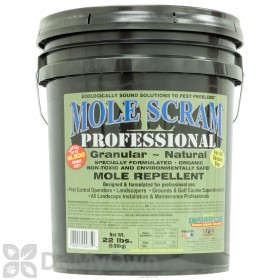 $80.24
Buy Now
Mark from Belmont, Michigan writes,
08/28/2014:
Is "Mole Scram Professional" dog safe?
I live in the woods on 2.6 acres and have 2 - 1.6 years old dogs. They have to taste everything, so everything I put on the lawn/garden has to be pet safe.
Answer:
Mole Scram Professional is an all natural product and when uses as directed is sfe for pets to be around.

Answer last updated on: 08/28/2014
5 of 8 people found this answer helpful. Was it helpful to you? Yes No