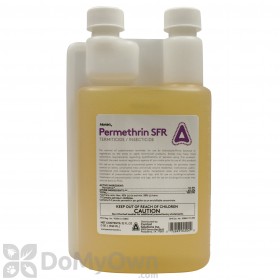 $25.46
Buy Now
Kara from South Central Todd County, Sd writes,
04/14/2013:
I need to treat 50 mature pine trees for Zimmerman moth, what is my best product choice & how much do I need?
I have already had one tree die and this grove is our only protection from the wind so I don't want to put it on to light any advice on application and which product is the best would be helpful. Thanks
Answer:
Permethrin SFR is the product of choice to control Zimmerman moths. According to the manufacturer of the product you should apply: 4 to 8 Fluid Ounces Per 100 gallons -- or –
Broadcast 0.9 to 1.8 Fluid Ounces Per 10,000 sq. ft. to control this pest.

Answer last updated on: 04/14/2013
1 of 1 people found this answer helpful. Was it helpful to you? Yes No