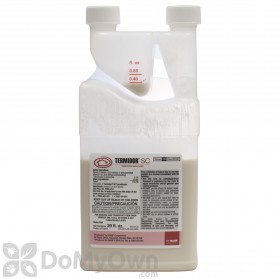 $69.00
Buy Now
Josh writes,
02/07/2011:
Should we evacuate the house when we use Termidor SC foam in the interior walls?
I recently found some dry wood termite droppings in the house. I want to use Termidor SC foam but my wife is three months pregnant. Should we evacuate the premise during/after the application? Also, could Termidor SC be used for indoor spot treatment?
Answer:
Termidor SC can be used by itself inside wall voids as a spot treatment for termites, or you can foam Termidor SC to be used inside wall voids. It can be used inside as a spot treatment only inside wall voids. Termidor SC, when used as directed, is safe to use with people inside the home and you do not have to evacuate anyone from the premises. It should be perfectly safe for your pregnant wife since you will be treating inside a wall void.
Answer last updated on: 02/07/2011
10 of 10 people found this answer helpful. Was it helpful to you? Yes No