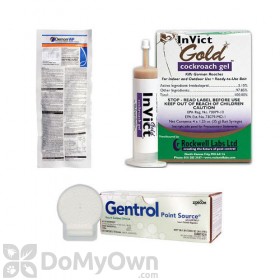 $59.98
Buy Now
Melisa from Mableton Ga writes,
08/08/2013:
What is the best thing to use to get rid of the roaches my ex roommate left behind?
We had a roommate for the past 3 yrs up until I kept seeing roaches around his door that he always kept locked. I took it upon myself to bust the door in and it was infested with every kind of roach I have ever seen. He was given a week to get his self out and his room looked like the inside of a dumpster on steroids. We have never had a roach problem till he had been here. We may have seen one on occasion but it would be albino looking and going in a backwards circle so I know it was on its last leg. Anyhow I have a cat and a dog and I don't want to use anything that would be dangerous. We have been using Amdro spray an orkin spray and its ok but I need something better. I'm scared of them bugs.
Answer:
All of the products in the Roach Control Kit #2 would work very well to help eliminate roaches and are safe to use around pets when applied as directed on the product label. When the actual application of the Demon WP is being made, all pets should be out of the area and they can return as soon as the treated areas are dry. The Invict Gold Roach Bait should be placed directly into cracks and crevices around counters, sinks, drawers and cabinets. This will make the gel available to the roaches and inaccessible to your pets. The Gentrol Point Source do not actually contain any insecticides, just an insect juvenile growth hormone mimic. These discs can also be placed out of reach of children and animals and are readily used in sensitive locations such as hospitals and day cares everyday. Severe infestations may take several months to eliminate no matter what products you use. Sanitation will be a key factor in eliminating the roaches. Please take a few minutes to read the hints and tips in our German Cockroach article to learn more about roach elimination
Answer last updated on: 08/08/2013
Was this answer helpful to you? Yes No