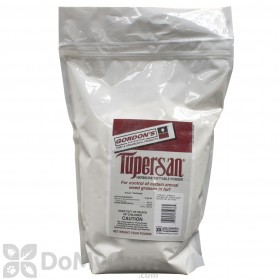 $138.95
Buy Now
Tad writes,
02/25/2011:
What is the application rate of Tupersan 50 WP? How much for a 15,000 square foot lawn?
I understand that the lawn may require several applications to keep suppressing germination of unwanted weeds through the summer. I need to know how long a bag might last.
Answer:
Depending on the type of grass you are treating, when you are treating and if you plan to do one treatment or two sequential treatments, you will need 1.3 lbs - 8 lbs for a 15,000 sq ft area. You can find more usage rate information on the product label which is always available on our website on the Tupersan 50 WP product page. You will need to refer to page 4 of the product label for usage rate information for lawns.

Answer last updated on: 02/25/2011
2 of 6 people found this answer helpful. Was it helpful to you? Yes No