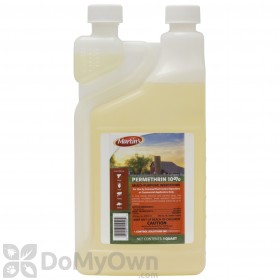 $18.25
Buy Now
John from San Antonio Texas writes,
05/31/2015:
Where I bought Martins Permethrin 10%, the guy said you could just put a sprayer and spray dogs and yards. Is that true?
Answer:
Martins Permethrin 10% can be applied as a spray to the lawn for various listed insects on the label. The guidelines for dogs is the following:
Dilute 8 ozs. in 12.5 gals. of water
Thoroughly wet the animal by dipping, sponging or spraying.
Allow animal to dry in a warm place without rinsing or
toweling. Do not reapply product for two to three weeks.
Consult a veterinarian before using this product on
debilitated, aged, pregnant or nursing animals on medication.
It is best to follow the manufacturer's instructions on the label for proper usage of the product.
Answer last updated on: 05/31/2015
6 of 8 people found this answer helpful. Was it helpful to you? Yes No