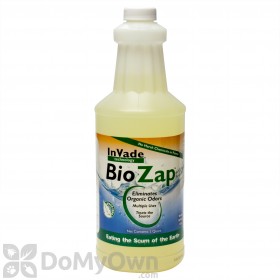 $19.90
Buy Now
Jason from Garden Grove, Ca writes,
01/20/2015:
Which InVade Bio product is best for me?
Bio Zap Bio Drain Bio Cleaner Bio Remediation - - ?? At our apartment complex I've been using BioZap for some months, to clean mostly cement - grease at BBQs, bird poo, sap, various other spills/substances, and also our water-less urinal. I want to order a large amount to spray in our dumpsters to clean built up crud/eliminate odor; but if I am going to spend this much I want the most effective of your products for the job(s). Advice? Another Q that just occurred to me - would any InVade products be effective at reducing the lint/gunk build-up behind laundry machines? Thank you.
Answer:
We would recommend using Invade Bio Zap for the variety of things you would like to do. It is labeled to be used on soil, gravel, crawl spaces, concrete basements and garages or insulation in attics, fabrics, carpets, walls, garbage receptacles, and restrooms. It does contain the same active ingredient as Invade Bio Drain, however, the makeup is different which means it will work differently if you use it in places it is not labeled for.
The product can be used to clean behind the laundry machines, but it will not reduce lint.
Answer last updated on: 01/20/2015
0 of 1 people found this answer helpful. Was it helpful to you? Yes No