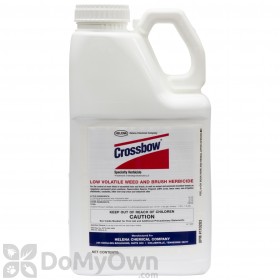 $64.95
Buy Now
Jackie from Elkins, Wv writes,
08/18/2014:
Will Crossbow kill black walnut tree saplings?
I would like to cut the saplings down and paint the stump to prevent the black walnuts stump from re-sprouting. Will Crossbow prevent any new growth to eventually kill the tree? Trees are approximately 2-4 inches in diameter.
Answer:
Becuase the roots can spread out 50-80ft from the tree, it is advised to cut the stump as low to the ground as possible. Black Walnuts are know for resprouting, using a product with the active ingredient Glyphosate is going to be your best option. Using Roundup QuickPRO which has Diquat as 1 of the 2 ingredients works for a faster knockdown and aborbs throughout the root system better. Below is a step by step guide on how to ensure the saplings won't regerminate.

Step 1 - Space cuts around the trunk of a mature tree, using a hatchet. These cuts should go down at an angle, exposing some inner flesh of the trunk. Alternatively, cut a straight line around the trunk, removing the bark along the line. For saplings, there's no need to remove bark because the young bark is thin.
Step 2 - Spray
Roudup QuickPRO
mixed according to manufacturer's directions, into the cuts in the trunk. Saturate the cuts completely. For saplings less than 6 inches in diameter, spray the herbicide directly on the trunk up to 18 inches high.
Step 3-Allow the herbicide to move through the tree to the roots for 48 hours. Observe the black walnut's leaves for signs of curl or wilt. If none exists, make new cuts in the trunk and reapply the herbicide.
Step 4 - (IF YOU HAVE NOT ALREADY REMOVED THE TREE) - Remove the tree by cutting through the trunk about 6 to 12 inches above ground with a chainsaw. You may be able to remove it with an axe if the tree is smaller than 6 inches in diameter. For larger trees, you may need a chainsaw. Choose a safe direction for the tree to fall, and then make the first cut on that side of the tree. Create an undercut or V-shaped cut several inches into the tree, going no farther than one-third of the diameter inward. Go to the opposite side to make a back cut, which is a straight cut that is about the same height as the point of the undercut. As you get close to the undercut with the back cut, the weight of the tree should topple it toward the undercut.
Step 5 -Spray the top of the freshly cut stump with
Roundup QuickPRO
, coating it liberally. Repeat every two days for a week or until the stump flesh turns gray. Black walnut trees can send up new suckers from the base of the trunk if the roots aren't killed.
Answer last updated on: 08/18/2014
0 of 1 people found this answer helpful. Was it helpful to you? Yes No