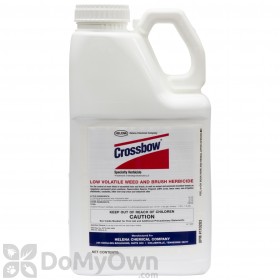 $64.95
Buy Now
Linda from Oregon City, Or writes,
06/14/2017:
Will Crossbow work to kill moss and weeds in my yard without killing my grass?
Answer:
Crossbow Herbicide is specifically designed to kill brush, vines, woody plants like trees, and broadleaf weeds without harming grasses when used at the labeled rates. It will not, however, kill or control moss as moss only grows in areas where you have too much moisture and poor soil conditions where the PH levels are off and the soil is too compacted. Renting a core aerator and running it through the area you have heavy moss concentrations will greatly help. If there are any tree branches keeping that area shaded that you can trim back or cut off then you will want to do this as well so you help keep the area dried out to prevent new moss regrowth. You can spray a moss control product like Lilly Miller Moss Out, however changing the conditions causing the moss is always the best way to go so that repeated sprays aren't necessary in the long run. 
Answer last updated on: 06/14/2017
Was this answer helpful to you? Yes No