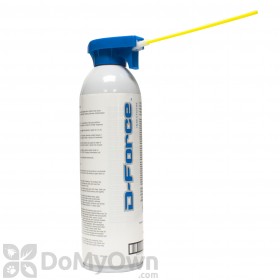 $17.20
Buy Now
Gh writes,
03/03/2011:
Will D-Force HPX kill spiders that live in the upper corners of rooms in my apartment?
I live in an apartment that seems to be a spider magnet! Every couple of weeks I have to vacuum the corners of the ceilings because of the spiders. Can D-Force HPX be used for this problem? Also, does this product stain? The walls are white.
Answer:
D-Force HPX will kill spiders, but it does not offer an immediate knockdown. Using a good residual product such, as D-Force HPX, around door frames, window frames, baseboards, places where cables, pipes or wires enter through the walls and any other cracks or crevice will not only help kill the spiders, but it will also kill other insects which is what the spiders are there to feed on. By removing the other insects, you will be able to stop new spiders from moving in and you will be able to break the cycle of spider infestation. You should also use glue boards under sinks and in cabinets, under and behind furniture and appliances and in the back of closets and storage spaces which will help monitor infestations and remove insects and spiders from your apartment. D-Force HPX should not stain when used as directed on the product label but we still recommend testing it on a small inconspicuous area to be sure.
Answer last updated on: 03/03/2011
3 of 4 people found this answer helpful. Was it helpful to you? Yes No