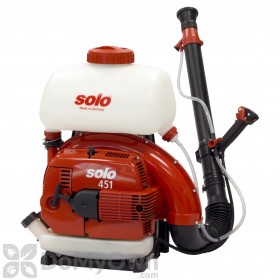 $699.99
Buy Now
Sean from Auburn, Nh writes,
11/03/2014:
can it be used as a leaf blower
Answer:
According page 5 of the Solo 451 Mist Blower label, this machine also enables the removal of leaves, grass, paper, dust or snow, e.g. in gardens, sports stadiums, parking lots or driveways; Do When used as a sprayer -- without filling –--without a liquid pump. Please contact Solo directly at 757-245-4228 for instructions on how to convert the sprayer.

Answer last updated on: 11/03/2014
2 of 2 people found this answer helpful. Was it helpful to you? Yes No