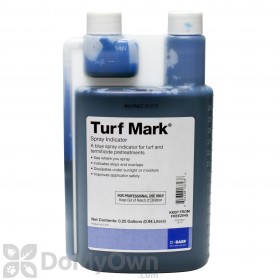 $28.33
Buy Now
Bill writes,
03/28/2011:
Can Turf Mark Blue be used without mixing it with an insecticide?
I was watching Holmes On Homes the other night and they were using a blue liquid for termites on the wood. I noticed they were using a paint brush to apply it. I just wonder if this was the same stuff? He gave it very high praise.
Answer:
Turf Mark Blue can be used by itself without mixing it with anything other than water, however this product is a colorant only to mark where you have treated. It does not provide any preventative or treatment qualities of termites. However, this product is most often applied with Bora-Care, a product that is the best there is for treatment directly on wood and will protect against termites for the life of the wood. We are positive that the product he was painting on the wood was Bora-Care, with Turf Mark Blue mixed with it so you know what was treated.
Answer last updated on: 03/28/2011
1 of 2 people found this answer helpful. Was it helpful to you? Yes No