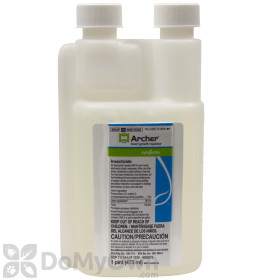 $55.84
Buy Now
Gail writes,
03/17/2011:
Can I use Archer IGR with a hose end sprayer? How much would I need for 1/4 acre?
I run a doggy day care with about 1/4 acre of yard. I want to apply the product quicker than with a gallon sprayer.
Answer:
You can use Archer IGR in a hose end sprayer. You will need to apply 1 ounce of Archer IGR per 1,500 sq ft. You can mark of a 1,500 sq ft area, add the appropriate amount of ArcherIGR to the hose end sprayer and then spray until the container is empty. The exact amount of water you use isn't very important, you just need to make sure you are using the correct amount of product per 1,500 sq ft. In areas with thicker, denser vegetation you will need to use a bit more water to help the product get to the soil where these pests harbor. One bottle of Archer IGR should be enough for at least 2 treatments on a 1/4 acre property.
Answer last updated on: 03/17/2011
11 of 13 people found this answer helpful. Was it helpful to you? Yes No