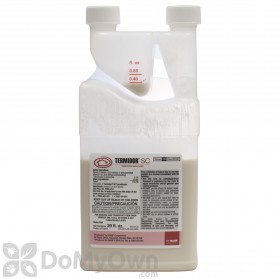 $69.00
Buy Now
Richard from Fort Lauderdale, Fl writes,
05/04/2013:
Can I use a drill to inject Termidor SC into exposed wood indoor?
My indoor stairs is all wood and we have drywood termites in it. I see the kick out hole and want to drill to inject Termidor there and make other small holes to apply it. Is it safe? I have a dog.
Answer:
Typically you just drill the hole into the infested piece of wood and inject the product however you can. You should drill into the exact center of the wood. We do sell a foam product already in a can for termites that is very popular and will save you the time and money of having to buy a foamer and foaming agent. It is called Termidor Foam and comes ready to go with an applicator tip. The key to drywood termite control is to get the product exactly where the termites are. You may also want to look into Boracare it can be painted, sprayed, or foamed onto raw untreated wood. It is a great product for wood boring insects because it will penetrate up to 4 in and will last the lifetime of the wood. If you have any further questions you are welcome to call us at 866-581-7378 to speak further.
Answer last updated on: 05/04/2013
Was this answer helpful to you? Yes No