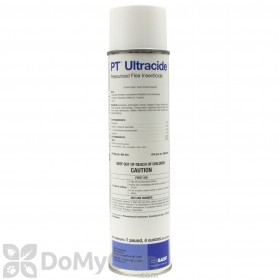 $22.49
Buy Now
Tracy writes,
08/13/2010:
Do I need to reapply Ultracide?
I applied Ultracide to my carpets just a little over two weeks ago and to my beds, couch, and car carpets and seats just a little over one week ago. I have been vacuuming non-stop everywhere everyday since our problem began just a little over three weeks ago. I disposed of the vacuum contents each time. I don't see any fleas, but I am still getting itchy areas on my skin after vacuuming and spending periods of time inside the house. After inspecting the itchy areas on my skin, I find very tiny one hole pin pricks at the center of the itchy area. I don't think I have the typical reaction to flea bites that result in the tiny lifted red bump. After awhile, the itchy areas go away and the pin pricks heal. Do you think I still have fleas? Should I reapply the Ultracide to everything again or just continue doing what I am doing? But for how long?
Answer:
If you still had fleas then you would definitely see them. If you are not seeing any fleas but you are still itching and seeing signs of bites on your body, then we would recommend seeing a dermatologist to see if you can get the itchy areas identified with anything. Fleas are definitely noticeable. One way to determine if you have fleas is to place a white sock over your hand and arm and slide it across the floor. The small black fleas should be easy to identify on the white sock and will let you know if you still have activity or not. If you do still have some fleas then you should treat again. Flea Treatments almost always take 2 to 3 treatments and should be applied every 14 days since the flea eggs hatch every 14 days.
Answer last updated on: 08/13/2010
14 of 14 people found this answer helpful. Was it helpful to you? Yes No