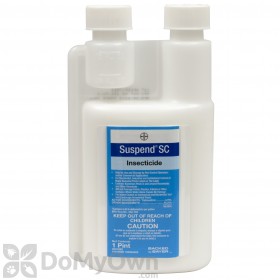 $39.50
Buy Now
Nick from Ca writes,
06/21/2012:
Does Suspend SC work to get rid of June Bugs? Does it also work on the larvae and eggs in the lawn?
How should it be applied?
Answer:
Suspend Sc will help eliminate adult June bugs that contact treated areas. Suspend SC should be diluted with water at the listed usage rate on the product label and applied when the pests are present. Thorough coverage is required and higher volumes of water may be necessary to ensure both the top and underside of the leaves of the foliage are sprayed. Suspend SC will not work to control insect eggs or for grubs (larval form of beetles). Most insecticides will not kill insect eggs because the eggs are protected by their hard outer shell. For grub control in your lawn you can use one of our grub control granule products such as Dylox or Merit Granules.
Answer last updated on: 06/21/2012
1 of 1 people found this answer helpful. Was it helpful to you? Yes No