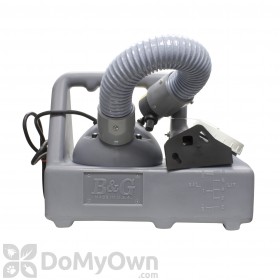 $306.77
Buy Now
Mark from Kansas City, Mo writes,
08/08/2014:
Does the B&G 2600 have a low and high speed? Will the unit be harmed if it runs out of liquid while running?
Answer:
The B&G Flex-A-Lite 2600 Fogger does not have a low and high speed setting but the

droplet size can be adjusted from a power-mist (56 micron droplets) to ULV (20-35 micron droplets). The
manual
does state that you should not leave it running for more than 30 minutes and to turn it off once fogging is complete so it would not be advised to leave the unit running with no liquid in it.
Answer last updated on: 08/08/2014
Was this answer helpful to you? Yes No