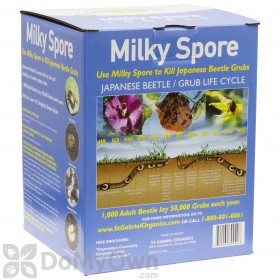 $45.00
Buy Now
Tom from Hyannis, Massachusetts writes,
03/24/2013:
For Milky Spore, is it one application of the powder or 6 applications over 3 years of the granular?
What is the accurate info? If so, why would anyone do a 3 year program?
Answer:
Milky Spore Powder is a one time application put down in spots in measuring teaspoon amounts every four feet apart creating a checkerboard pattern of spots throughout your yard. Each spot contains 100 million spores.

Milky Spore Spreader Mix in bags is applied with a drop spreader over every square foot of grass and requires six applications usually Spring and Fall for three years to build the number of spores in any one area to millions of spores.
Some folks find the spreader mix easier to apply because the application is done with a spreader so that is the method they choose. It is simply a personal decision based upon what you feel comfortable doing.
Answer last updated on: 03/24/2013
23 of 23 people found this answer helpful. Was it helpful to you? Yes No